Lenny Henry on the cover here, this was around the time of his releasing a single as Theophilus P. Wildebeeste featuring Dee Dee Wilde – Don't Even Think About It.
And Delbert's guide to crucial DJ-ing is below, 139 BPM a joke at this time but it wasn't that far off from happening.
Kiss FM was duly awarded a license in December 1989, a landmark moment for the dance music community leading to their legal relaunch in 1990.
The Turtles won their case against De La Soul, which led to a crackdown on sample usage and a legal need for all samples to be cleared before release. In some cases this lead to re-recording of material (e.g. Black Box's usage of Loletta Holloway's voice). I'm of the mind that this wasn't necessarily a good thing as creativity could be stifled if you had a really good idea but on the other hand creators need to get paid. It should have been maybe more in line with the income or exposure of the user, so that someone like HiFi Sean shouldn't have been paying the Rolling Stones' shell company wads of royalties forever when they had plenty much money to begin with.
Bluebird House Chart here, nothing too out of the ordinary, don't remember the Battlestar Galactica 12″ and I think this is the Club Sensations referred to here : https://www.discogs.com/Various-Club-Sensations-Volume-I/release/75801
Another not really very good cartoon from Ian Gibson here.
Below is the guest indie chart, interesting to see Stepping Stone as it would be covered the following year by The Farm.
Mixed bag here and mostly the kind of thing I was spinning in my student disco gigs; Jimi Hendrix, James, 808 State, KLF and uh, French Snog. Also kind of notable is Renegade Soundwave here with The Phantom, which always seemed to me as music from another planet.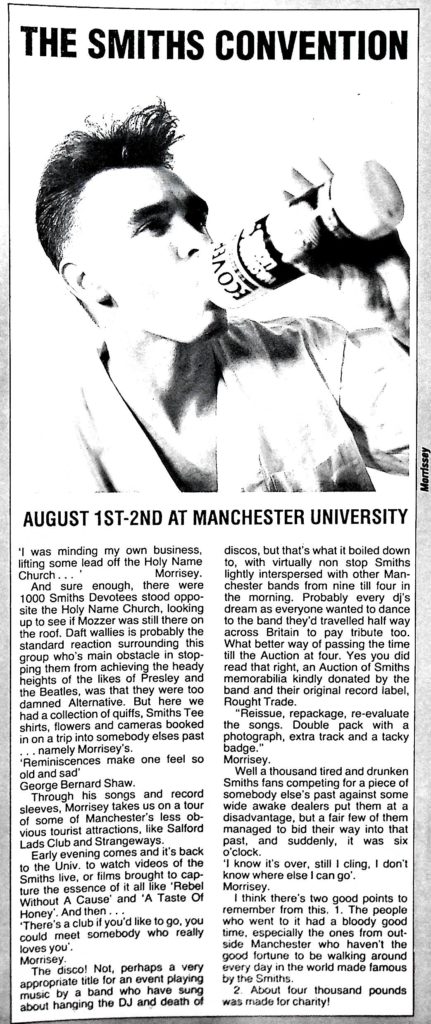 Well, at least it sounds as if they had a good time.
Selections from the magazine here:
Tracklist:
Wood Allen – Airport 89 with Electric Fling
Sueño Latino – Sueño Latino (Paradise Version)
Jungle Wonz – Time Marches On (Club Mix)
Jade 4 U – Rock It To The Bone
Sueño Latino – Sueño Latino (Acapella Version)
Bang the Party – Bang Bang You're Mine (Full Vocal Mix)
Jade 4 U – Rock To The Beat
Ellis D – Just Like A Queen (Dub Like A Queen)
Laurent X – It's Magic
Looney Tunes – Just As Long As I Got You (Original Version)
Cape Crusaders – There's A Bat In My House
Sweet Pussy Pauline – Hateful Head Helen (Helen's In The House Mix)
2 In A Room – Take Me Away (A Junior Vasquez Mix)
808 State – Pacific State
Abfahrt – Alone (It's Me)
Hashim – Al Naafiysh (The Soul)
Raven Maize – Forever Together (Give Me Some Dub Mix)
Jungle Crew – Electric Dance
Footnote, what the hell is that Red Alert roster background image all about?