You can't go home again.
A few words about time travel, I guess. Back in 2004, there was a initiative from somewhere in the BBC to produce a Doctor Who themed remix album.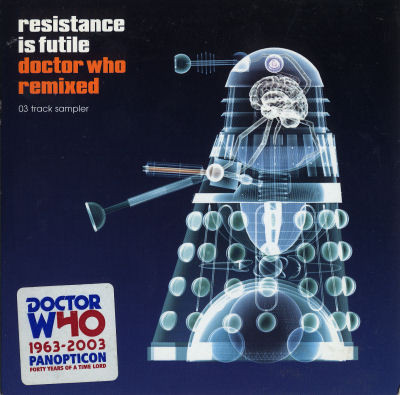 For whatever reason, this didn't get much traction or died by death of a thousand cuts somewhere within the BBC. May have been shelved because there was a revival of the show on the cards and the showrunner didn't want this in the mindspace. Or could have been anything really. It didn't go ahead other than a 3 track sampler that was given out at the Forty Years of a Timelord Panopticon convention. I was kind of disappointed as it was very much up my street, Saint Etienne, 808 State, Coldcut, The Orb, Orbital et al. very much my jam at the time. Didn't happen though. 3 tracks were released on a CD Sampler at Doctor Who Panopticon and nothing more was heard of it. I did recently remember that at least part of the Coldcut track was played on a Solid Steel radio show, so wondered if I could track it down.
After a bit of hard remembring I was able to figure out the specific tracklisting here, confirming the track title as Delia Derbyshire – Dr. Whooligan (Coldcut remix).
That's only part of the puzzle though, is the track online anywhere? Not currently on Solid Steel, only as some kind of weird glitch here. And I can't seem to find it on soundcloud either. And it's not on soulseek, which although still alive doesn't seem to have the same numbers it once did. Maybe people moved over to discord or /mu/ but I'm too set in my ways I guess for that.
Well, maybe there's a torrent somewhere then.
RUTracker has a Solid Steel radio show post covering 2004, but it's from 2008 and as much as I would like to think there are still seeds the possibility seems remote. I load up the torrent, and there's one seed that's unconnectable. But there is a seed, so it's somewhere. So what if I add some known open trackers, could I find a connectable seed?
In short, yes, eventually the show turned up. (Should I feel bad or guilty about explaining how to dredge up content from 20 years ago? However it was a radio show, the sort of thing I may have passed on to other by cassette. Seems a little too niche to be important so I can sleep soundly I suppose). Anyhow I've clipped out the relevant chunk, it's mixed into a bit of Kelis – Milkshake (DJ Zinc remix) (which is an absolute banger anyway) and has Tom Baker from the outtake for a furniture store played over it.
And if you've made it this far, there were two other tracks maybe from the remix album that I found. Can't remember where or when.
This from maybe an UNKLE forum of old. The BBC Radiophonic Workshop – Doctor Who Theme (U.N.K.L.E. Reconstruction).
And this from Astralasia.
More to come tomorrow. Or yesterday.