Well, after last year's pivot to Nazi Germany part way through the post, maybe there's something a bit more cheerful to be found here.
That'll be a no. Marc Bolan was tragically killed in a car accident on September 16th, 1977 when his girlfriend, singer Gloria Jones crashed their car into a tree.
I was on the cusp of turning 6 at this point in time, I wasn't aware of T. Rex until a few years later. 30 years of age is a terrible age to end and arguably Marc Bolan was ahead of his prime creativity, but this was cut short.
Billboard Hot 100 for the week of September 24th, 1977 can be found here and the UK top 50 can be found here.
Other features in this weeks paper are "We went to the pub several times" which culminates in a session of cocktails in the Glasgow Apollo.
Competition time! Win a trip to the USA! Win a bike! Win a skateboard! Win a kite! Win one of 200 badges we had made of someone that died a month ago that we have no idea what to do with now!
Anyway, to cut to the chase the EP contents were as follows (via discogs):
Camouflage – Excerpt From A Disco Symphony
Mac & Katie Kissoon – I'm Just Dreaming
Delegation – You've Been Doing Me Wrong
Rokotto – Moonlight Dancin'
Tangerine Dream – Monolight
XTC – Traffic Light Rock
The Motors – Whisky And Wine
U-Roy – Control Tower
And in looking for the rest of the questions I've found a Sex Pistols comic strip. In association with Skum Magazine, author/illustrator is Mark Jay.
Back to the charts, notably Disco is in full swing here and the edits are getting longer. Playlist here :
Also, noticed this:
Which was a riff on this (Peter Blake played a Fonz like Rock & Roller revivalist in later Pepsi adverts).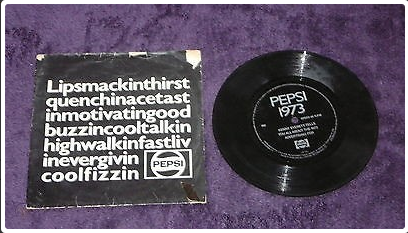 But I did find this.
All I wanted was a Pepsi.